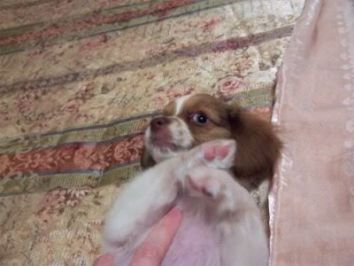 - "Hi! My name is Abby and I belong to Kristin's brother and sister-in-law. Kristin's family says I'm more human than animal. I think they say this because I love to be wrapped in blankets like a baby when I'm very sleepy. Kristin says I'm the sweetest, most adorable dog. She loves my floppy ears and thinks my eyes are as sweet and innocent as a newborn. She loves me to pieces, I think!"





- "The picture above is my first baby picture, taken the day I was brought to my new home."

- "Whenever Mommy and Daddy go to Disney World I get to stay with my cousins, Maddie and Izzy. We're great friends!"




- "Izzy and I love to play rough, but Maddie likes to keep us in line. When she thinks we're playing too hard, she'll boss us around by growling and standing between us. Usually, Izzy and I just ignore her and keep playing."




- "My constant companion and one of my very best friends is the family cat. Her name is 'Sadie,' and we love to play and take naps together."